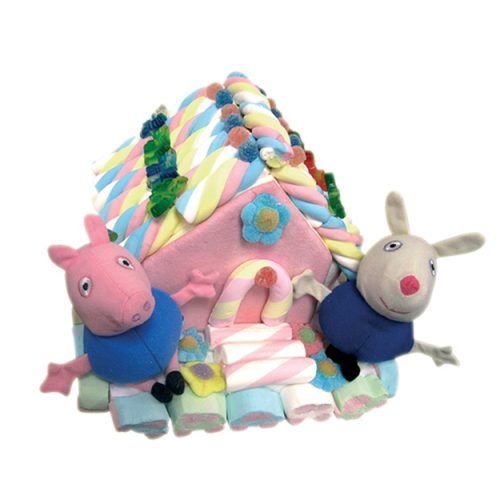 Product Description
Peppa Pig marshmallow cake in the shape of a house.
Weight: 915gr. Height: 20cm. Length: 23cm. Width: 27cm.
Ingredients
Marshmallow: Glucose syrup, sugar, fructose, water, dextrose, gelatin, milk proteins, corn starch, modified starch, flavorings, colorants: E-100, E-120, E-131, E-160c. Gum candy: Sugar, glucose syrup, dextrose, flour, fructose, water, gelatin, milk proteins, acidulants: E-330, E-270, acidity corrector: E-325, emulsifier: E-472a, preservative E-281, molasses, gum arabic, licorice extract, fruit concentrate, prepared vegetable extracts, carnauba wax, flavorings, colorants according to product: E-325 -120, E-124, E-131, E-133, E-160c, E-171.
Nutritional information
Cooming soon
Allergen information
Cooming soon