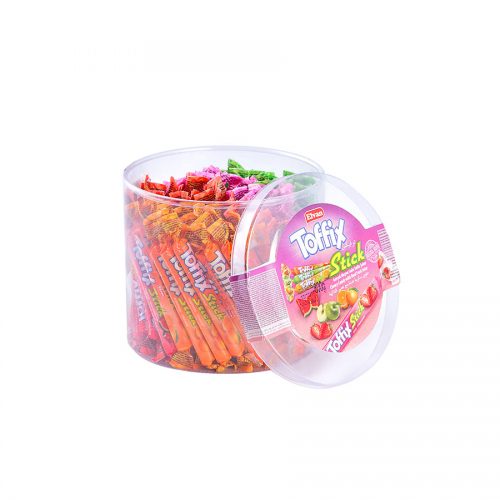 Product description
Fudge in stick. 4 flavours: orange, strawberry, apple and watermelon. 120 units per display. 8 displays per box.
Ingredients
Sugar, glucose syrup, fully hydrogenated vegetable fat (palm kernel), fruit juice (apple, orange, strawberry), humectant (sorbitol), edible beef gelatin, acid regulator (citric acid),  flavours (apple, orange, strawberry, watermelon), natural colorants (beta carotene, chlorophyll and chlorophyll veins, red beetroot ), salt, emulsifiers (mono- and di-glycerides of fatty acids, soya lecithin).
Nutritional information
Energy value (100 gr): 415 kcal, fats: 6gr, saturated fats: 5.2gr, carbohydrates: 88gr, sugars: 82gr, proteins: 1,2gr and salt: 47mg.